Food and Hotel photography for Rydges Hotel Auckland.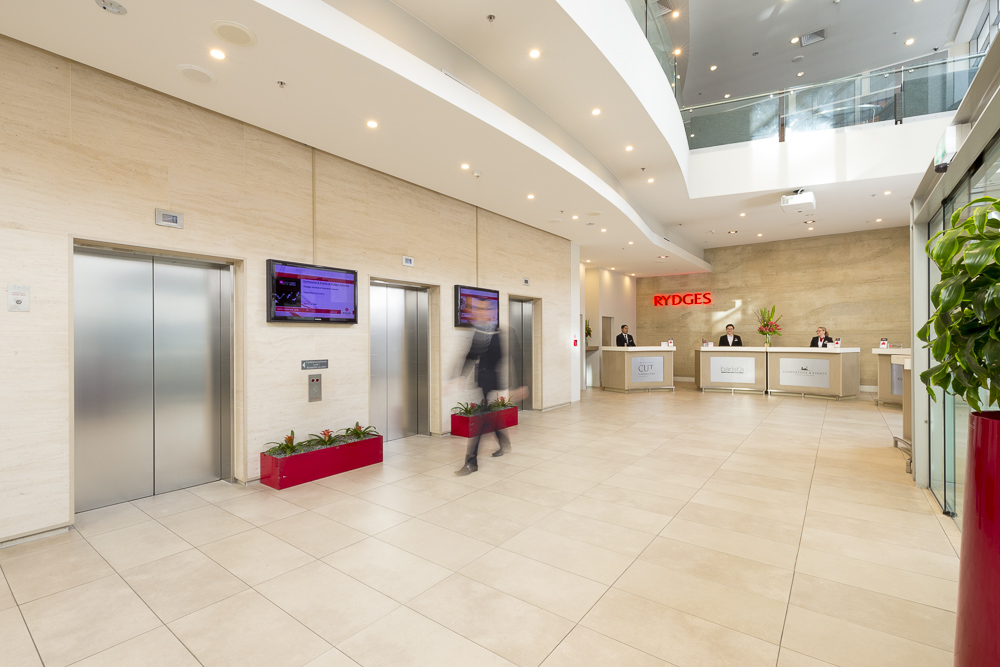 I recently completed two days of hotel photography for Rydges Hotels Auckland. The Hotel contacted me wanting to create some new hotel photography for their image library to use for marketing and promotional projects. They needed a mix of room and function area photography, along with some food photography for their hotel restaurant "The Cut". There were a lot of areas to cover and images to be created. This meant a fair bit of pre planning was involved to make sure we had a good run sheet for the two days activities. The hotel staff were fantastic to work with on this and everything ran smoothly to allow us to create all of the images we aimed. All apart from some externals which I completed on a seperate visit due to weather.
Hotel room photography
The hotel decided to photograph one room from each of its room categories. This would help them to have the correct images for each section about different rooms on their website. This involved a bit of work setting up, taking down, and lugging around my lighting and photographic equipment from floor to floor, room to room but its so worth it to create really strong images of each room with good lighting to show the rooms to their best in the hotel photography.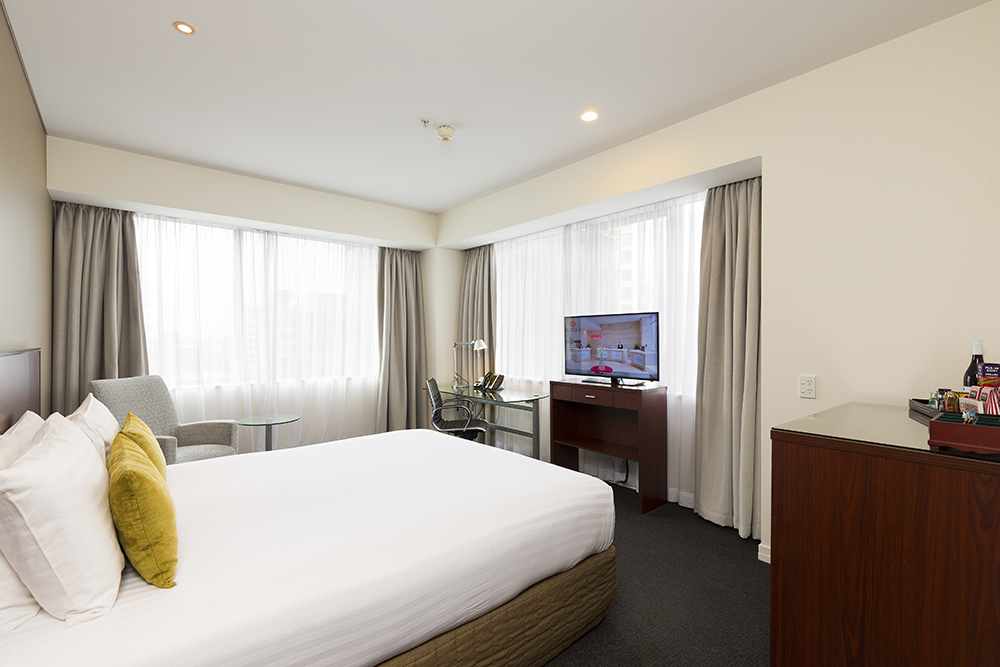 The room below was on of the more funkily decorated rooms. It had a great feel with loads of space for just a double room. A well used wall between the living and bedroom areas divided the room while making each space feel larger than it would have if the wall spanned the entire width of the room.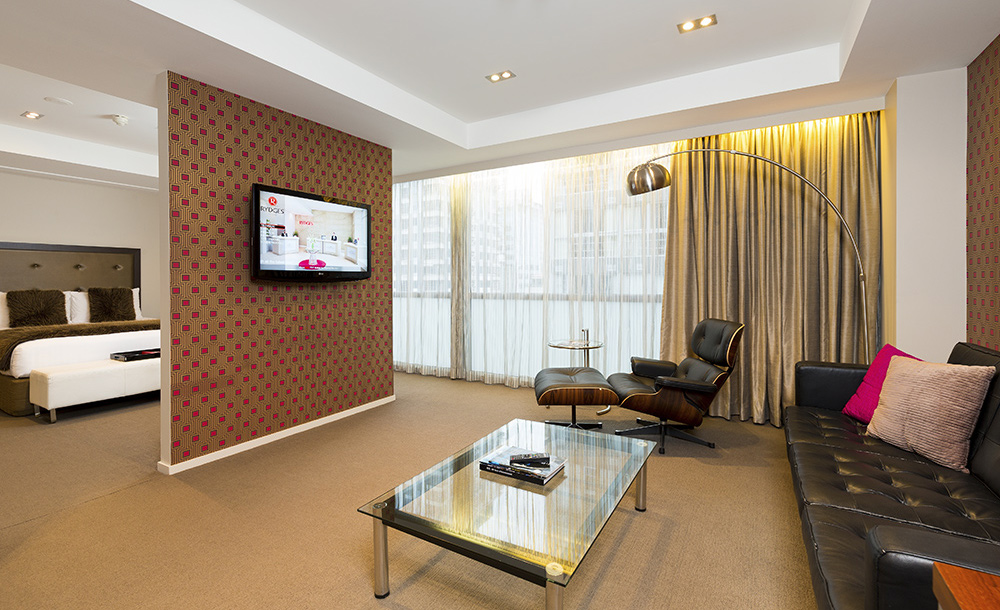 And its bathroom was pretty spacious also. Bathrooms are always a little tricky to photography when completing hotel photography or any other type of interiors photography for that matter I guess. There are so many shinny surfaces in a small space it makes controlling the light all the more of a puzzle.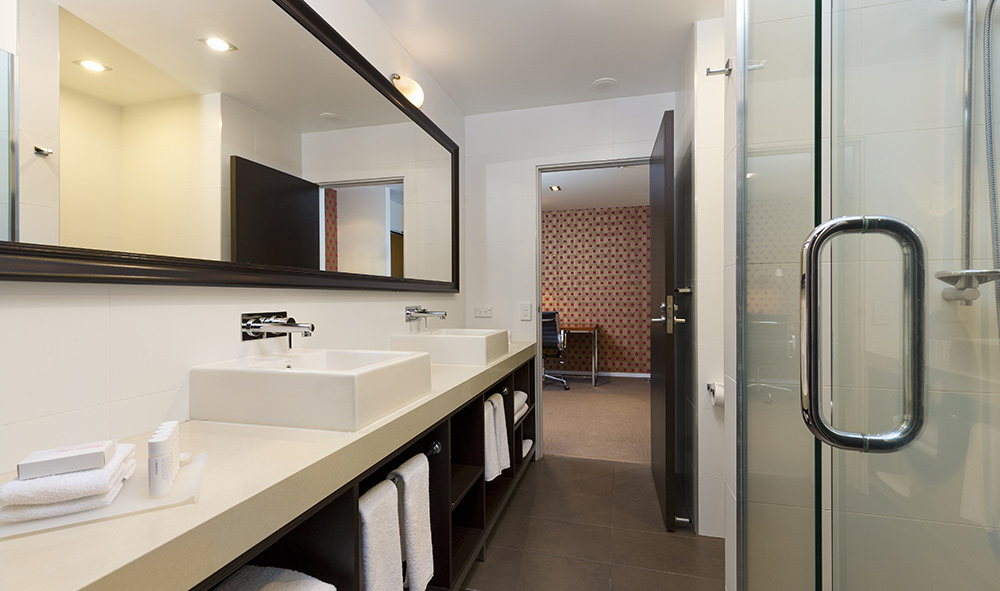 Heres a few of the other rooms I photographed for Rydges Hotel photography.
A twin king (is that the correct terminology?) with study desk. The window view from this room wasn't great so I over exposed in camera to help disguise it.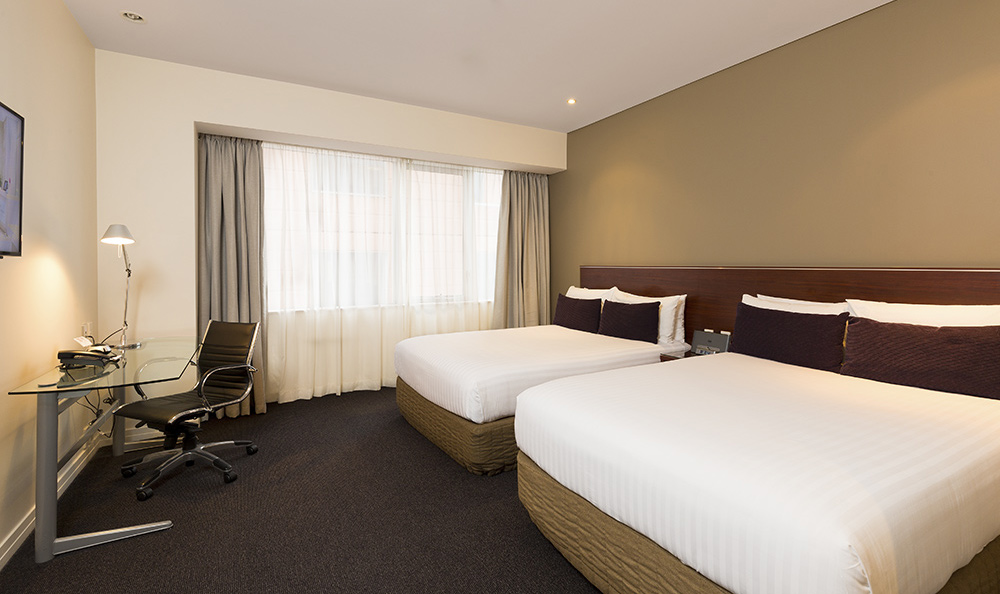 A large twin king bedroom with great natural light.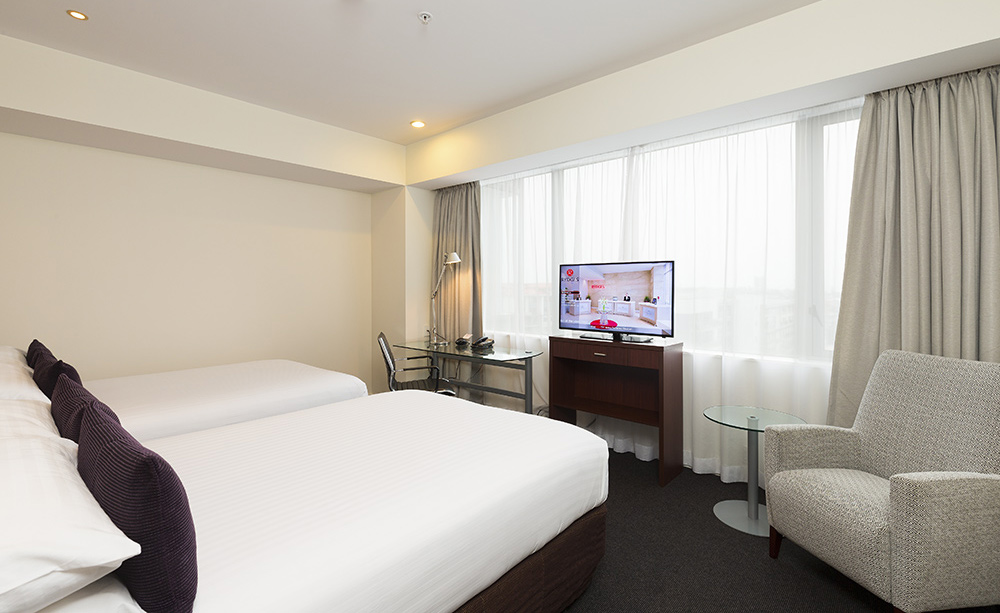 And this is a very spacious room with living and kitchen area. This was one of the trickier hotel rooms to photograph due to the segmented shape but Rydges were really happy with the way I split the living and sleeping areas up.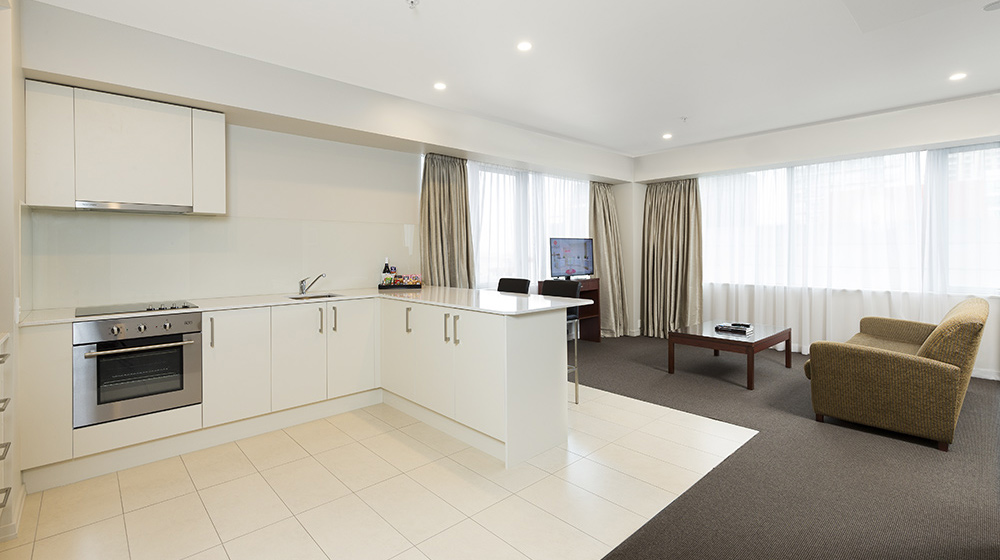 Food photography for the Cut Restaurant – part of Rydges Hotel photography
As a part of Rydges hotel photography I completed some food photography for their restaurant which is called "The Cut". They have three sections to their restaurant which keeps the dining experience intimate and private. Their food looks absolutely fantastic and was great to photograph.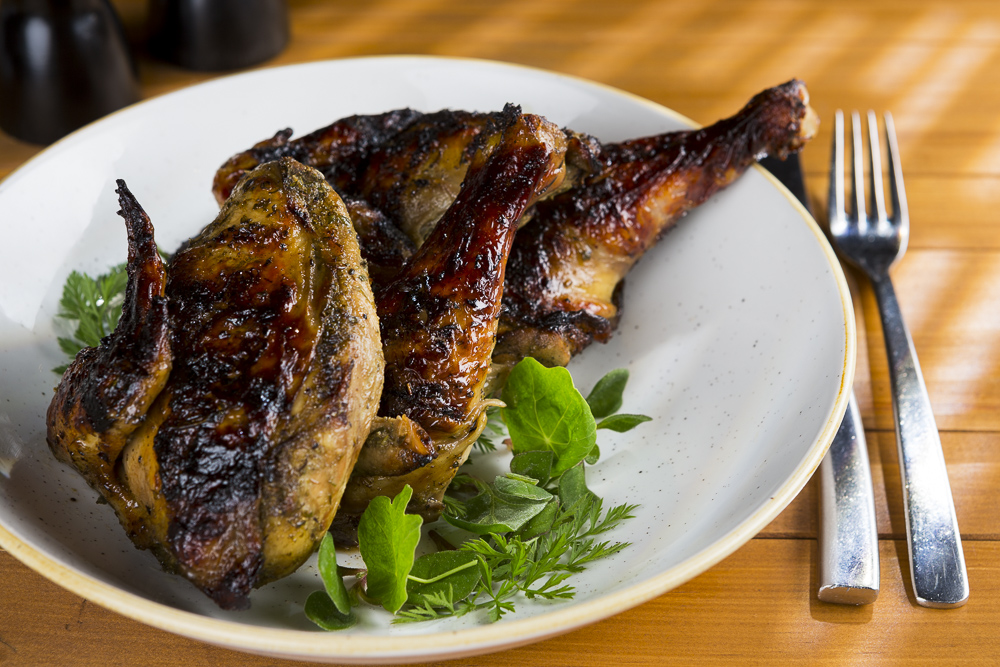 We set up my photographic backgrounds and lighting in the restaurant area during the quiter time of day for the restaurant. This meant I was able to capture all of the images while the chefs were not crazily busy.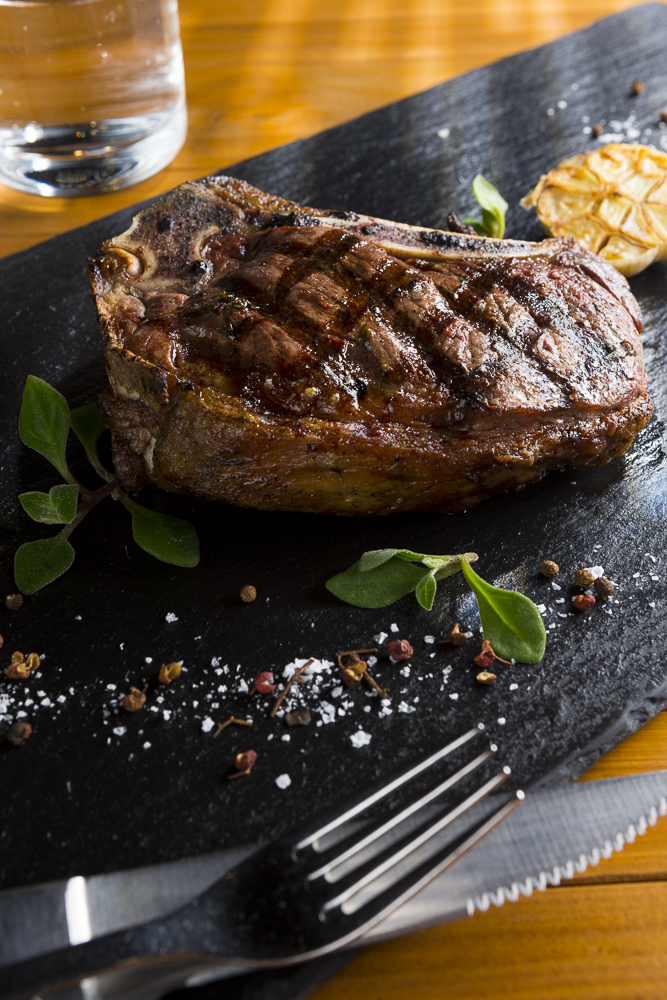 When I saw seafood chowder on the hotel food photography shot list for the day in the lead up to the shoot. I thought it would be one of the hardest dishes to photograph. Actually the way it was presented made for a great top down food image. The hotel liked this style of food photography and the background helped to make the dish pop with the focus going to the bowl of chowder.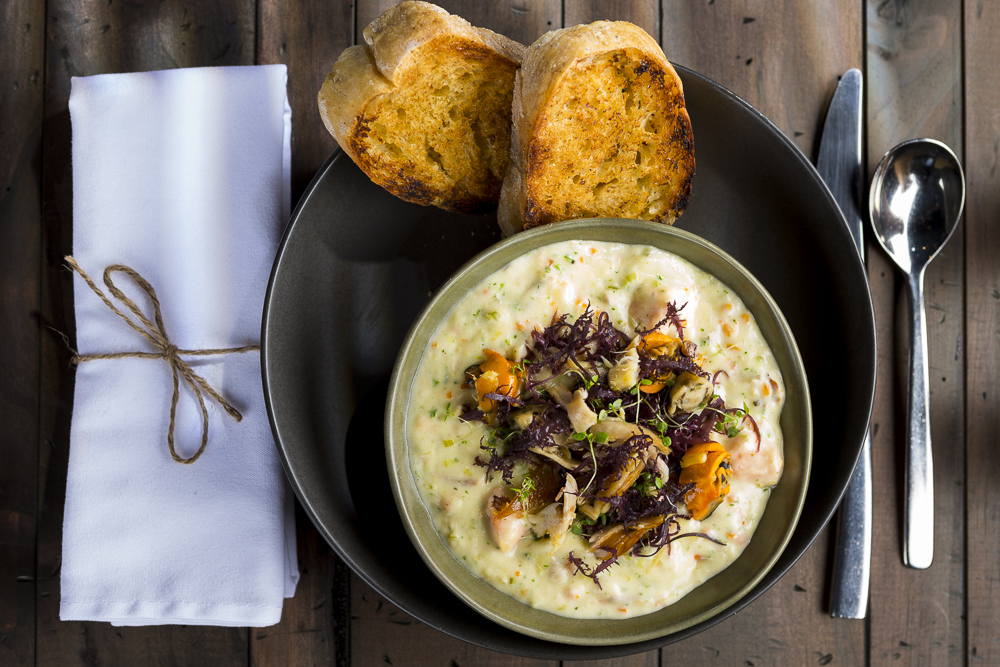 I used the same background for the classic english breakfast the hotel serves.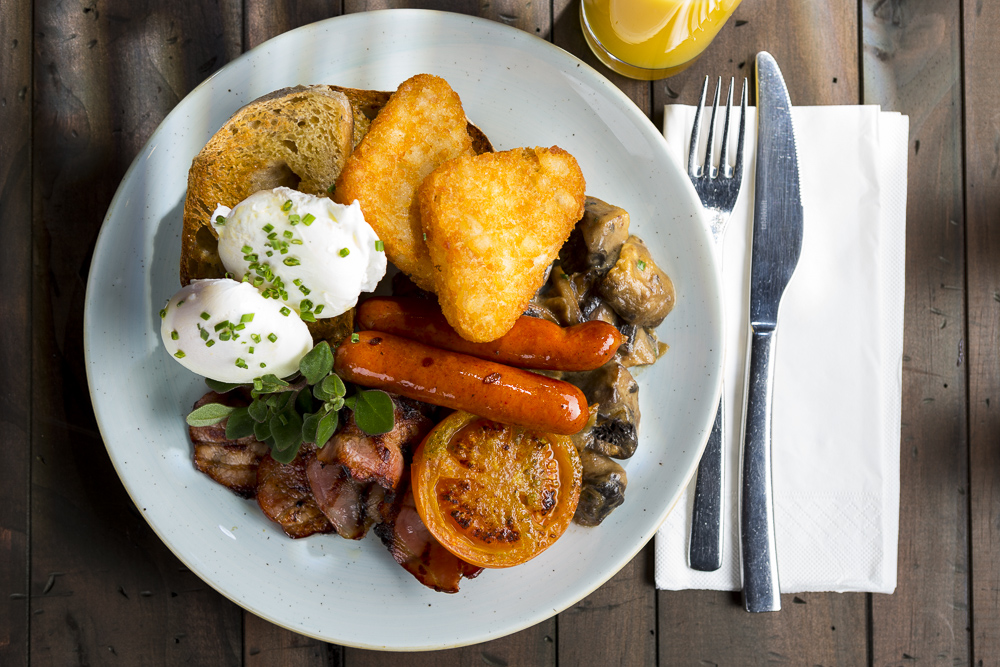 And the same dish photographed from the side to give the hotel some flexibility.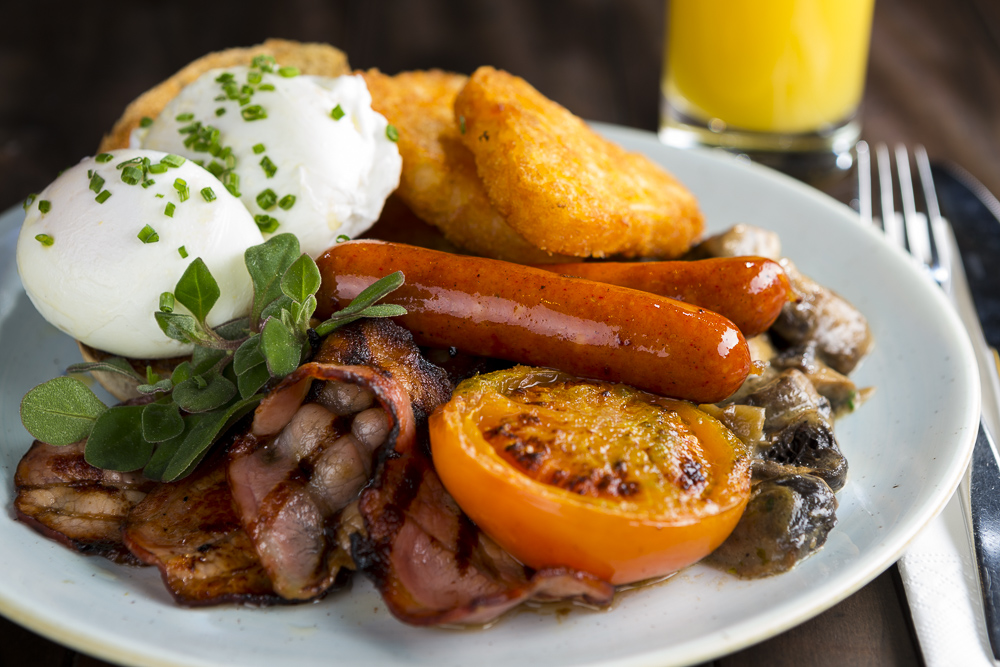 This steak was so nicely presented. One of the hotel staff came down at just the right time. Once we had photographed it he scored himself a pretty good free lunch.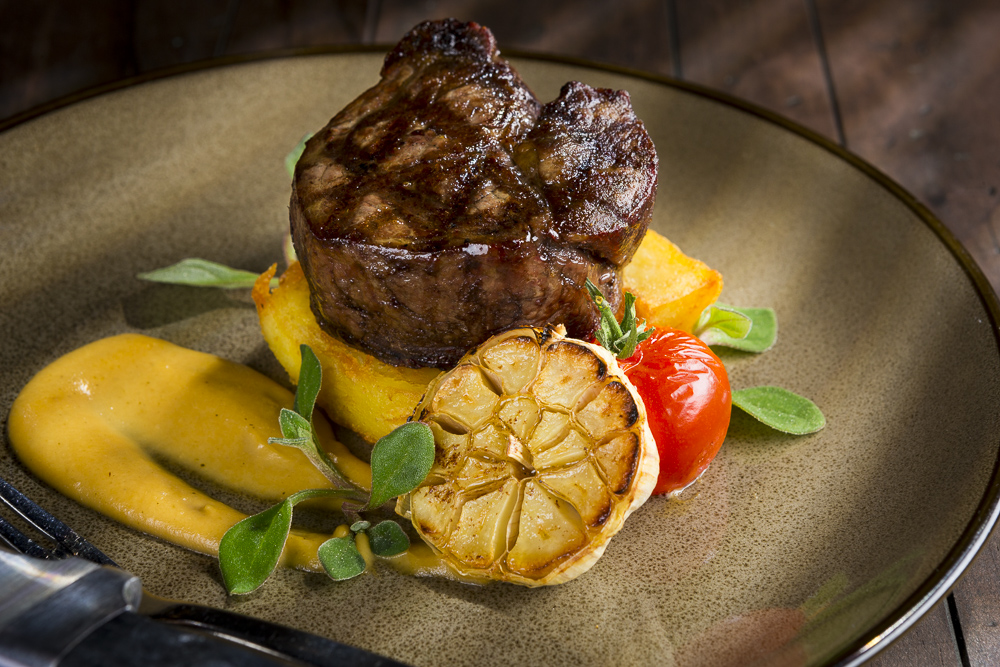 And lastly a simple image of a good classic beef, bacon, lettuce, tomato, and egg burger. Hotel food photography almost too good to eat, just needs a beer to wash it down I would say.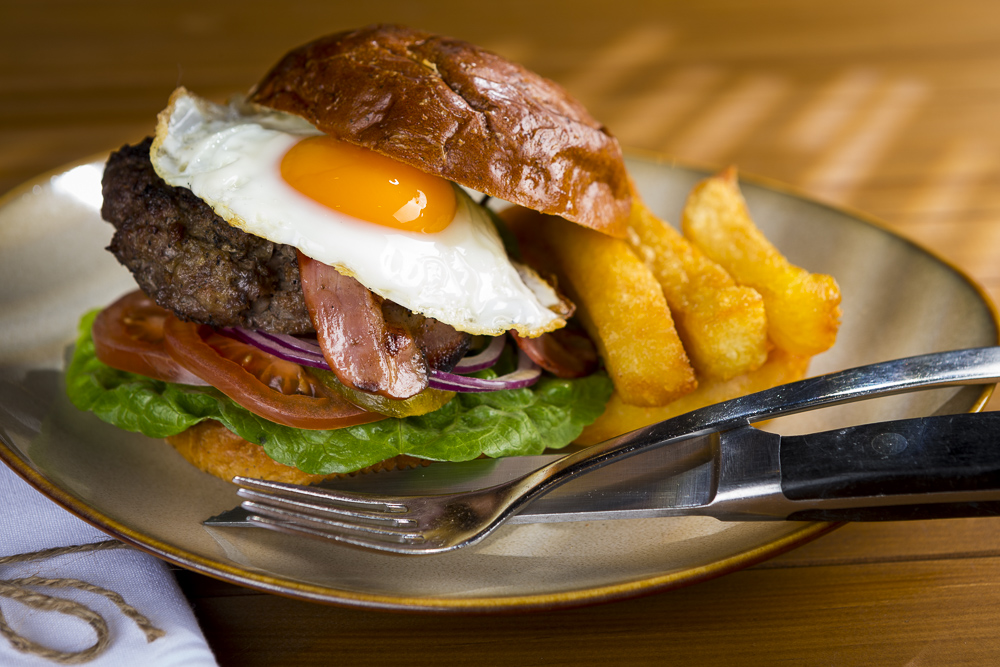 I also took a few images of the hotels cafe selection.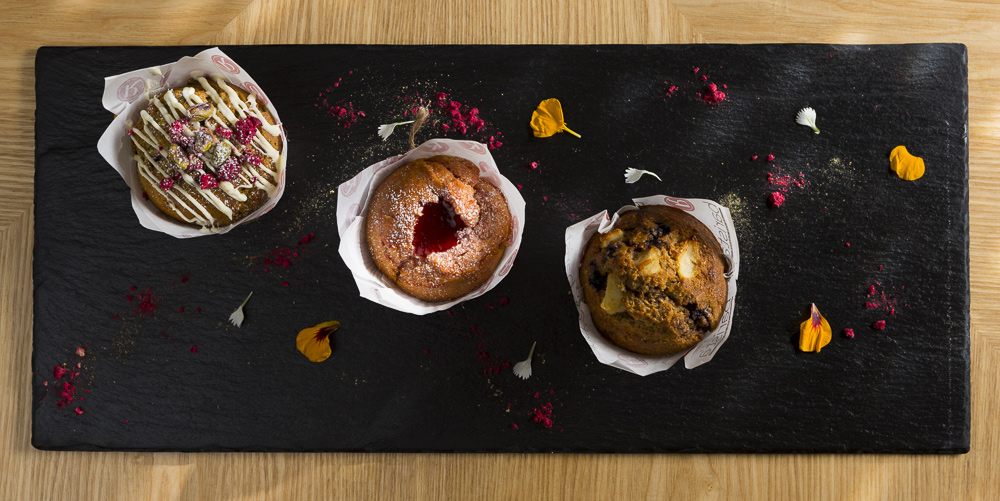 Hotel function room photography
Rydges also have a number of function rooms to host company conferences and events. I photographed the rooms for Rydges to use in their marketing to companies interested in using these spaces.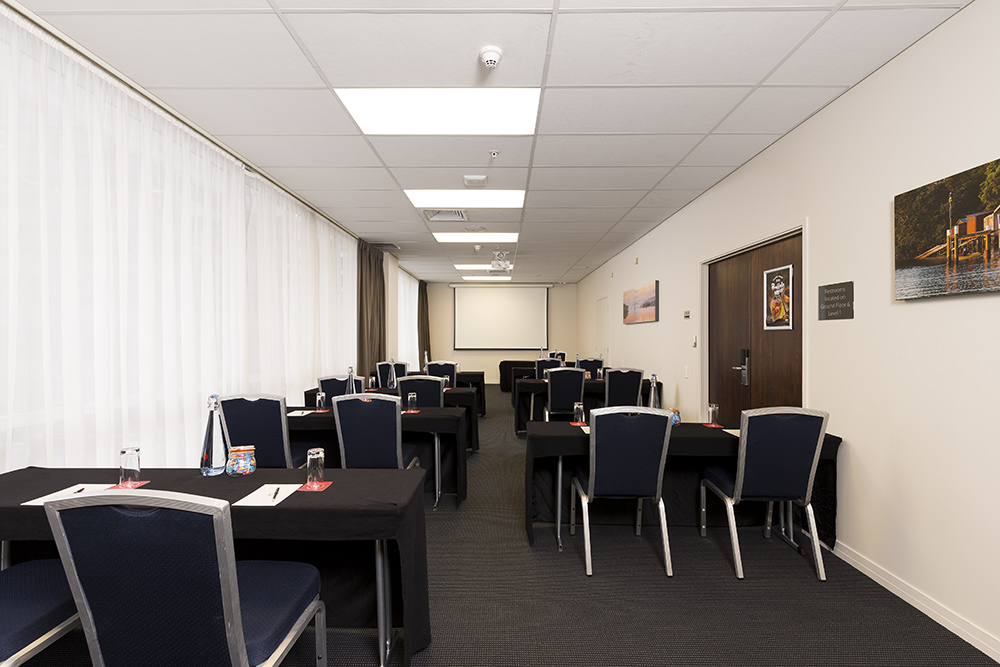 Above a small function room setup in Rydges classroom layout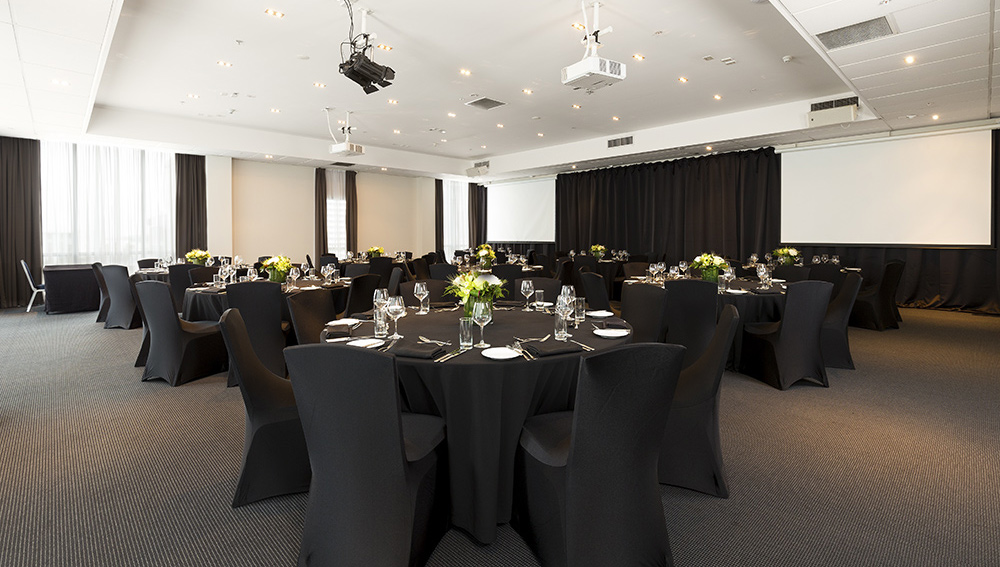 And Rydges largest function room setup for a wedding above and for a conference below.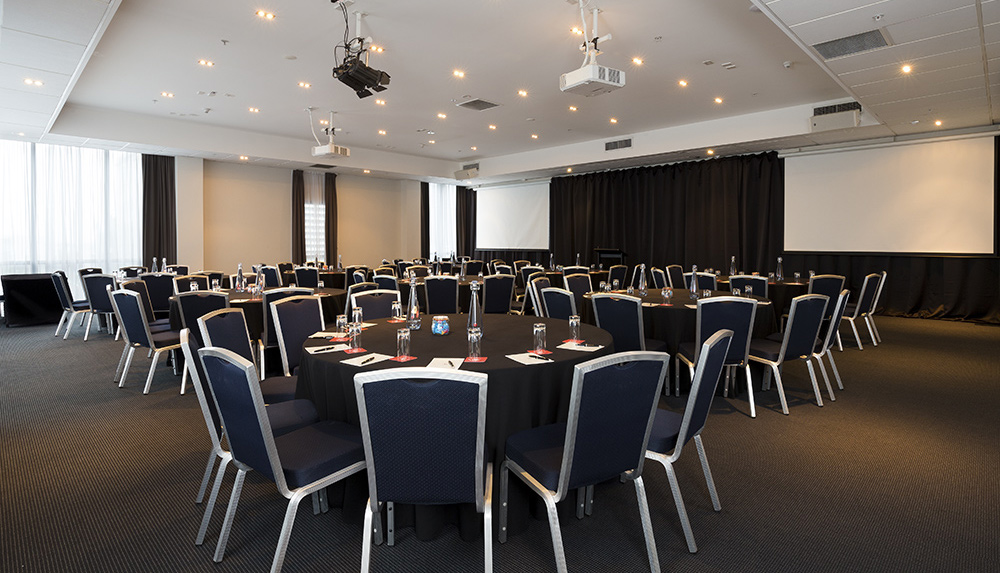 The room below is one of the medium sized function rooms photographed for Rydges hotel photography library.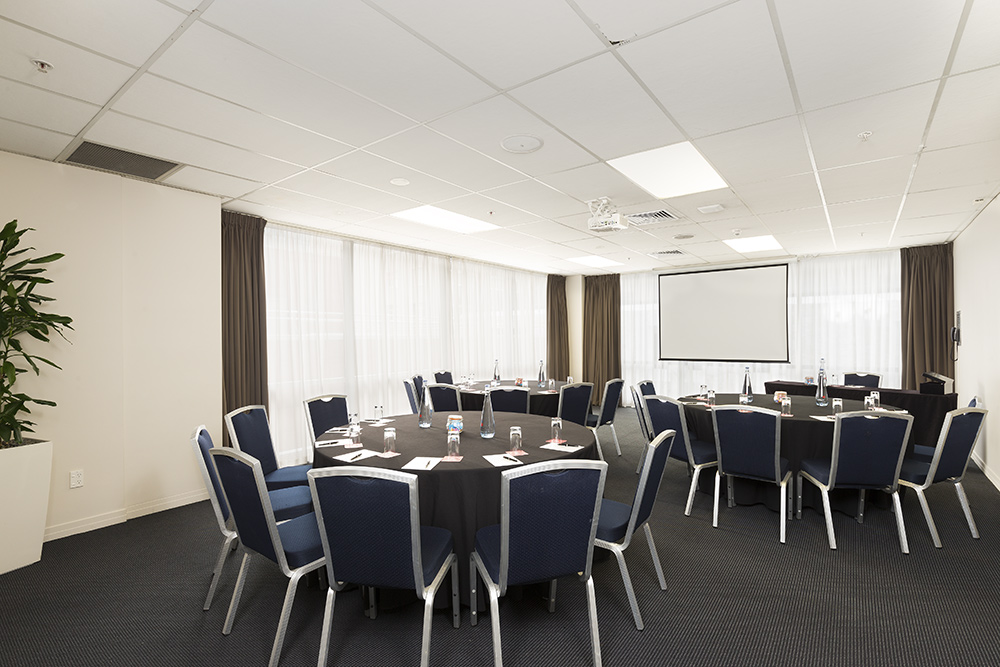 The below room is used for the Hotels dining in the dark experience. You dine in complete darkness and the wait staff are all blind. Sounds like a pretty different and interesting experience.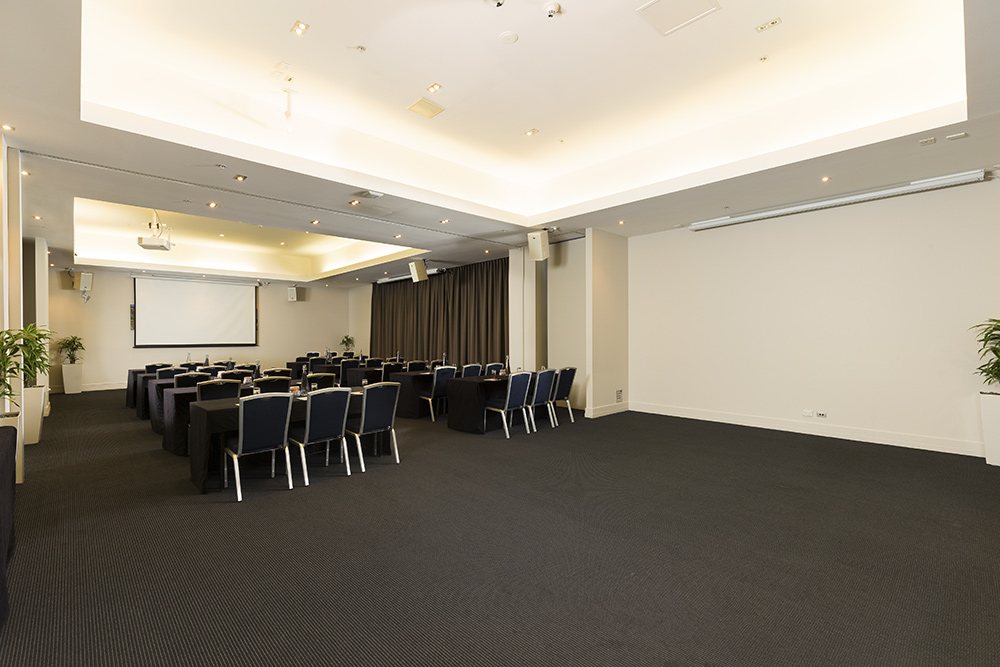 A few other images taken for Rydges Hotel photography
Heres a few other images taken for Rydges image library during the two days.
We took this one with some of the hotel staff pretending to have a meal to show the restaurant interior with some life to it.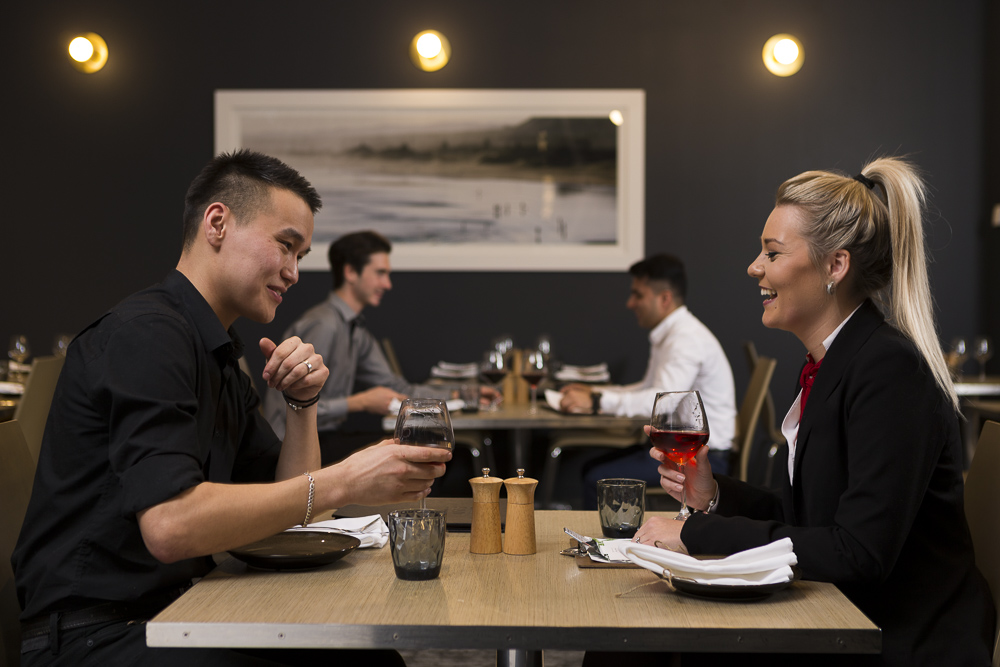 This is hotel photography of the finer dinning area lounge room.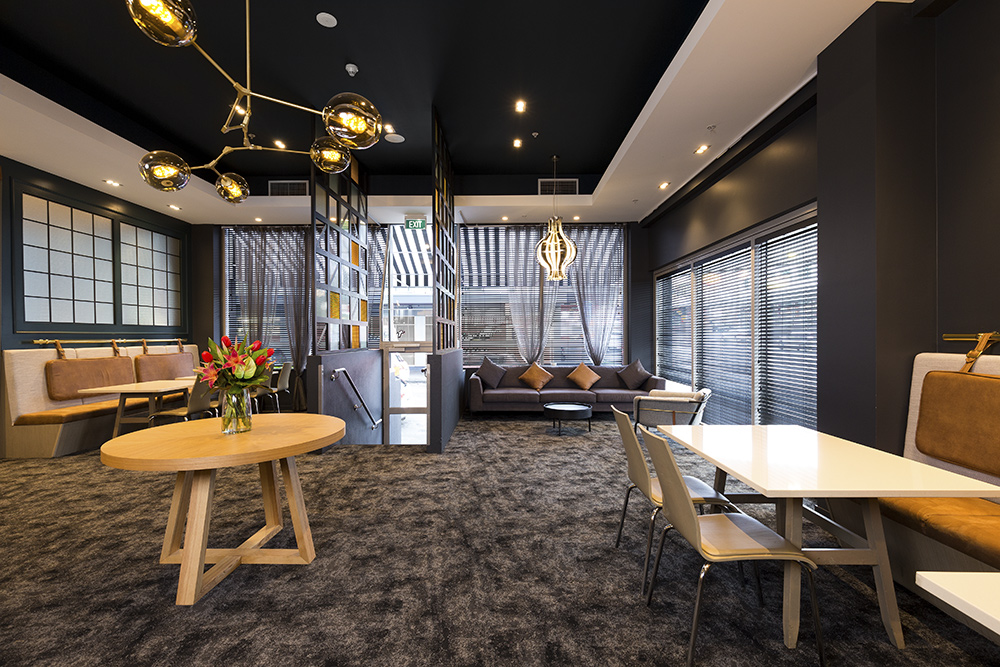 And the private dinning area of the hotel restaurant.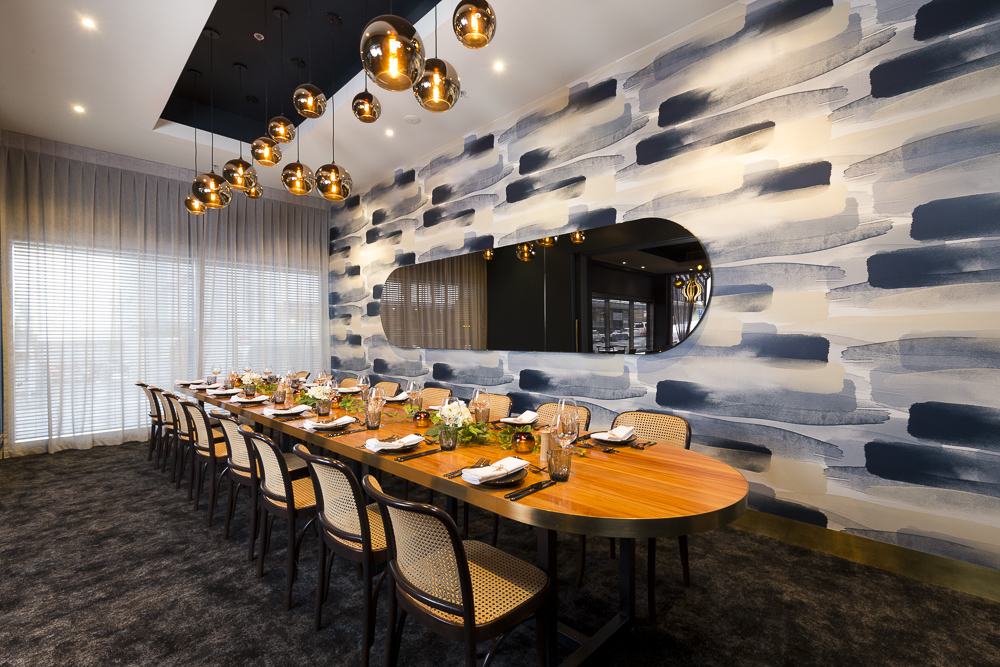 Finally a couple of the hotel exterior both at day, and night.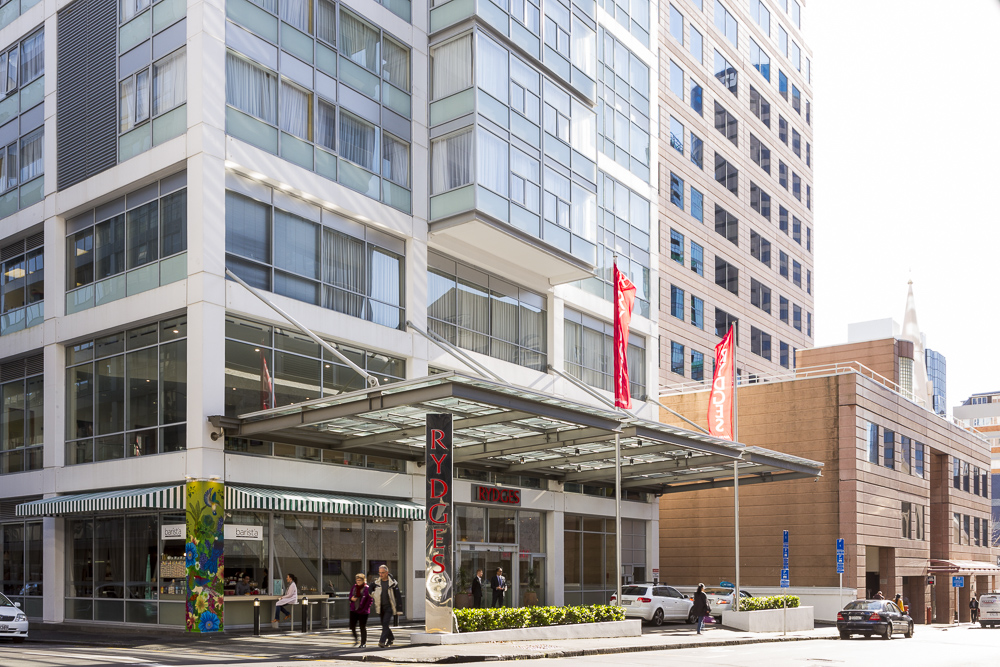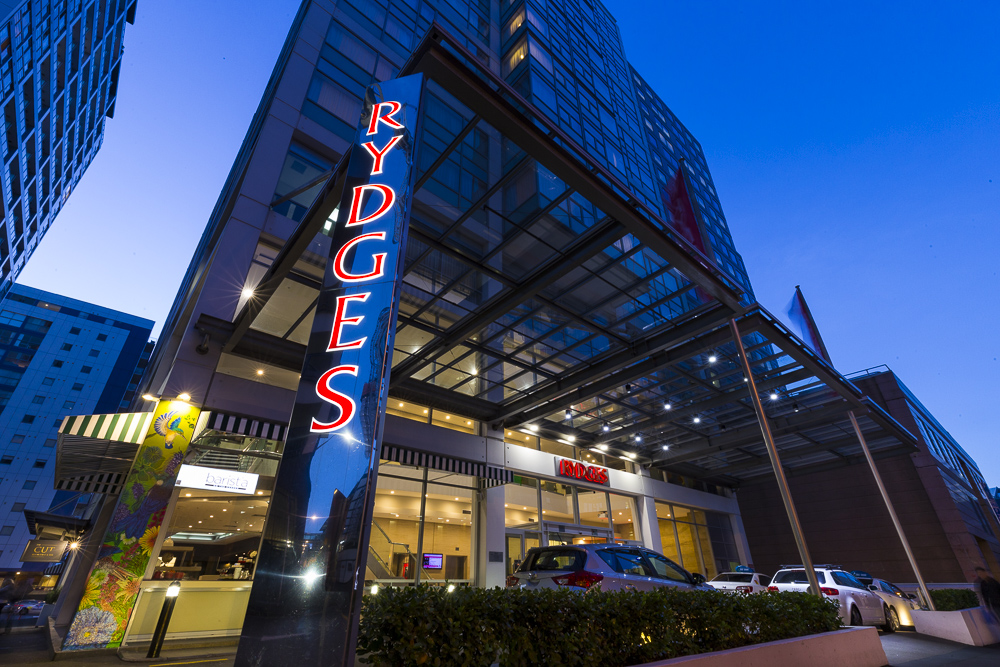 So theres an idea of the images we created in the two days, there were a lot more but this should give a good understanding of the types of images I can supply for Hotel photography bookings.
Further reading and information on my hotel photographic services.
If you are interested in some of my other interior photographic work have a look at these other blog posts:
And some posts on previous food photography jobs I have completed:
Also I have created some services information pages which you can access for more information here.
If you have any questions at all about my hotel photography services please get in contact with me from my contact page, I would love to help.